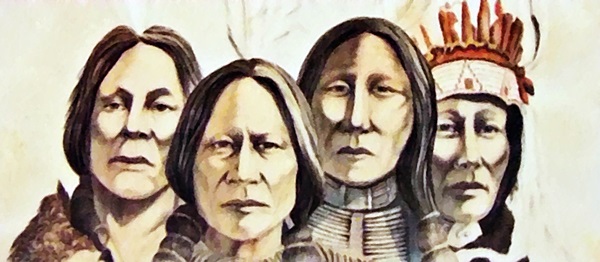 Native American tea: a website to visit!
Product: Native American tea company website
What do they offer: They offer a selection of herbal and naturally caffeinated teas made with
traditional Native American ingredients
Prices: From 3$ to 7.90$
Rating: 4 stars
What is the Native American tea company?
Well as the name says it is a tea company that offers teas made with traditional native medicinal ingredients. Each tea is made with a native story, legend or myth in mind. Further, each box sports an artwork to match the tea's name (above you can see the one for the Chief's delight tea). Each tea also comes with that legend/story on the box, such as the one for Teepee dreams below.
Further, the current owners (since 2007), the Aman family, have a connection with Sitting Bull's band. Indeed, shortly after chief Sitting Bull was killed in 1890, the Aman family established roots on the Standing Rock reservation (Sitting Bull's reservation) in South Dakota. In present day, the family has a long standing history of assisting in the economic development of the reserve. The Native American Tea company wears its name and heritage proud and is dedicated to the preservation of the native culture.
Moreover, the company is associated with the Sitting Bull college, a four year tribal accredited college located on the Lakota Sioux Standing Rock reservation (I need to visit that reservation!). The Native American Tea company donates 5% of its earnings to the college. An all around stand up company that is dedicated to the culture and traditions.
Their products
I first discovered the company's teas in a local shop where I live. If you have visited this site or like my Facebook page, you know at attend Pow wows at the Aboriginal friendship center in Vancouver, BC. In that center, there is a little shop with wonderful native art and products (where I buy a lot of my sage and feed my native scarves addiction….) by the name of Cedar Root Gallery. This is where I discovered the Native American teas. I just thought the boxes were so intriguing! With the art work and the stories on the back.
Most of their teas are caffeine free but in recent years, due to popular demand, the company has added green and black tea. They are all hand packaged and include all natural ingredients. The blend of ingredients in each tea is unique and based on the ingredients' properties. You can see a list of ingredients they use here. You can also read a former post of mine on the healing properties of herbs here. Indeed, each tea has its own purpose, all different. For example, the Teepee dreams tea is to facilitate sleeping and relaxation. The one I am drinking as I am writing this is the Indian Love tea, to help with general health, containing natural stimulants.
To help you understand the purpose of the love tea, here is the associated story:
In the Indian culture, when a young man fell in love with a woman he went through certain procedures. First, he would go to her father with gifts, as was the traditional way. If the father approved of the young man, and consented to give his daughter to him, the young brave would start his courtship. He would use his flute to play courting songs while the woman was inside her teepee. Often this would go on at night. Each brave had its own songs he would play for a woman, usually a special song played only for her. If the woman liked the young man, she would prepare a special blend of tea, Indian Love Tea. She would then come out of her teeppee to the sound of the music and offer the young brave a cup of tea, a sign of mutual admiration.
Well I still have to find my young brave to give the tea to (Michel Spears or Rick Mora comes to mind :)) but I love the taste of the tea. It has a sweet but earthy taste, in which you can taste the licorice root it contains. I have also tried the Chief's delight, a fruity blend to help you make clear decisions, like a chief would.
Conclusion
The Native American tea Company is a culturally sensitive proud and ethical company. They provide very good quality products at a good price with natural meaningful ingredients, based on our ancestors' recipes. if it worked for them, it works for me! The only reason I gave it a 4 star rating is that I wish there would be more teas! However, it could be argued that it's better to focus on limited products but do it very well. The Native American Tea Company has mastered that one! Drink up!
Have you tried their teas? Are you interested in them? Leave a comment below!